Kids Film – Competition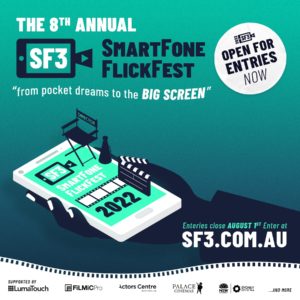 Shared from Facebook

If you have a budding film-maker in your midst, get filming. The 10 minute maximum film must be shot entirely on a phone or tablet. Entries close August 1.
……
If you are 16 years and under and have a smartphone or tablet, then the time to make a film is now!
Our SF3 Kids Finals will be held in live in Sydney at the Actors Centre Australia in the Spring of 2022 and also at SF3 Online. This is an exciting showcase of the best smartphone films from around the world, all made by filmmakers 16 years and under and our live screening features a red carpet, photo wall, a Q&A with filmmakers and industry professionals and a workshop.
To enter SF3 Kids you must be 16 or younger at the time of filming, your film must be shot entirely on a smartphone or tablet and be 10 minutes or less, the rest again, is up to you! And we accept entries from kids and teens the world over, we truly are global. After its success in 2021, we will again be awarding two SF3 Kids Best Film Awards – one to the Best Film made a filmmaker in Primary or Junior School and the other is the Best Film made by a filmmaker in High School or equivalent.
A note on our time limit: our time limit for SF3 Kids is now 10 minutes but if you have a film over 10 minutes which you feel is really awesome then we would still love to see it. You can enter it via our site here on the submissions page and we will consider it for our festival.
Please see link for further information: https://sf3.com.au/about/sf3-kids/
Related Events